Probabil că mulţi dintre voi ştiu despre documentarul Who Killed the Electric car?, cel care în 2006 a scos pentru prima dată la iveală mecanismele care au dus la dispariţia lui EV1, primul model electric al celor de la GM, din peisajul auto mondial. Dacă nu l-aţi văzut până acum, încercaţi să vă sunaţi mătuşa din America pentru a-l vedea. Căutaţi pe Google adresa şi va veni.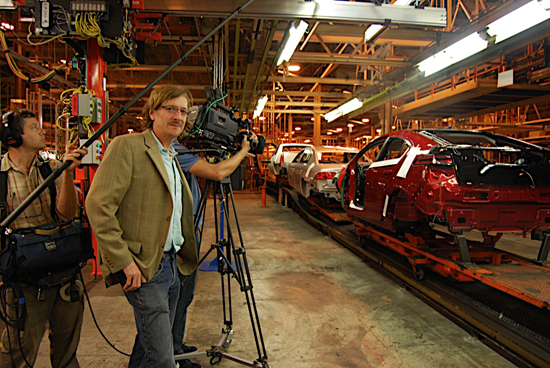 Vestea bună de azi vine din partea aceluiaşi Chris Paine, omul care a realizat respectivul documentar acum 4 ani. După ce Chevrolet a anunţat că va scoate pe piaţă noul Volt, care este de fapt un hibrid cu sistem în configuraţie de tip serie (motorul pe benzină încarcă bateria care alimentează motorul care învârte roţile), GM a începu să prindă din nou culoare în obraji după ce timp de câţiva ani buni s-au ruşinat când a venit vorba de maşinile lor electrice. Iar Chris Paine (foto, la filmările de pe linia de asamblare a lui Volt) va lansa un nou documentar, care se numeşte Revenge of the Electric Car. Şi care promite să ne arate partea optimistă a lucrurilor.
Filmul va fi gata, probabil, spre finalul anului viitor. Până atunci puteţi arunca un ochi în ograda producătorilor producţiei, care au lansat site-ul dedicat AICI.