De duminica este oficial: Brawn GP detine in acest moment suprematia in Formula 1 prin cel mai bun monopost pentru 2009. Cred ca este pentru prima oara in istoria competitiei cand o echipa nou-infiintata reuseste sa obtina primele doua locuri pe podium in prima cursa a sezonului. Well, nu e prima oara, s-a mai intamplat in 1954 cand Fangio si Kling au castigat pentru Mercedes-Benz.
O buna bucata de vreme am fost sceptic in privinta performantelor reale, pentru ca testele pot fi inselatoare in anumite conditii. Lucrurile au inceput sa se clarifice sambata, cand am vazut greutatile monoposturilor dupa calificari, si s-au confirmat astazi, in urma unei curse fara cusur realizata de Button. Fotografia de mai jos demonstreaza superioritatea Brawn GP. Priviti ce distanta este intre Button si ceilalalti la numai cateva secunde dupa start.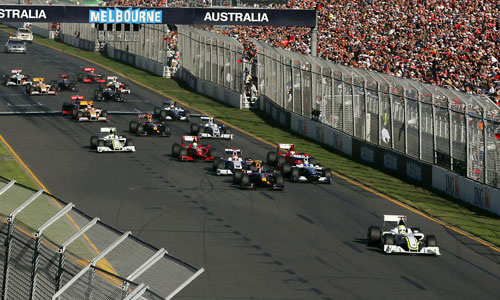 Cursa de la Melbourne a demonstrat ca Formula 1 seamana in prezent cu o miscare BRAWNiana. Brawn GP s-a cocotat acolo sus si nu-i mai ajunge nimeni, in timp ce restul se misca haotic pe grila de start, incercand sa-si gaseasca locul si gloria pierduta.
Si tocmai pentru ca simt ca nu-i pot ajunge pe Brawn GP prin performanta, incearca sa-i intimideze prin tot felul de tertipuri, cum ar fi scandalul deflectorului monopostului BGP 001. Declaratiile belicoase facute duminica de Flavio Briatore sunt de-a dreptul penibile: "Brawn should have been fair. Three months ago he should have come to us to tell us there are two interpretations over the diffusers". Yeah, sure! Nu mai bine va construia Brawn tot monopostul pana la ultima piulita? Si eventual schimbati numele competitiei in Formula Brawn.
Iar acuzatiile continua, sub motto-ul "Who the f**k is Brawn?" Citam din acelasi Briatore: "Brawn has never won titles, because those were won by Jean Todt and Stefano Domenicali, Flavio Briatore and Ron Dennis".
Yup, unii nu stiu sa piarda… Oare au stiut vreodata?